Ilford's chancers swindle sleepy Bedford
National Club Open Championship 2007, preliminary round
Ilford Bedford
1 J. Manley 201 1-0 A. Ledger (w) 220
2 A. Lewis 199e 1-0 D. Ledger 205
3 D. Coleman 194 ½-½ P. Constantinou 193
4 D. Sands 192 1-0 S. Ledger 187
5 J. Hodgson 191 1-0 O. Olulode 176
6 D. Hawrami 189 0-1 P. Goldsworthy 167
4½-1½
'The ultimate truth about chess is that it is a game of chance. All a chess player can do is react to opportunities and possibilities which are provided from outside and for which he can only hope and wait.' So wrote the Dutch grandmaster Jan-Hein Donner. It's as fair a description of chess as you are likely to find anywhere.
Two games from this match offer perfect illustrations. Dave Coleman blundered an exchange, seemed completely lost but somehow set his opponent enough problems to salvage a draw. That's what chess is all about: tripping up your opponent. Both of you will make mistakes but with luck you will win because the other guy will make the final blunder.
The board one game was just as chaotic. Black sacrificed three pawns for an initiative but White cleverly returned material to defuse the danger. We join the action after White's fortieth move.
Andrew Ledger v Jon Manley, White to play
Material is about even but Black stands much worse because his king is so exposed. White's immediate threat is 41 Ng6+ winning the exchange. The final result is not in doubt. Black plays on, not because he has found a defence but because he can find moves which don't lose on the spot. Black is condemned to playing forced moves while White can choose between several ways to win.
40… Nf6 (40…Kg8 41 Nxc6 is no better) 41 Rf2 c5 42 Qd6 Re8 (again, more or less forced) 43 Qxf6 Qxe4 44 Nf7+ Kg8 45 Nh6+ Kh7 (now 46 Ng4 wins easily but White thinks he's seen an even stronger move) 46 Nf5?? Rxg2+! 47 Rxg2 Qf4+, winning instantly – White resigned because he must give up his queen to avoid mate.
So what can we say about Black's play? That he set a cunning trap? Nonsense! White just tripped himself up – he saw a window of opportunity and jumped straight through it. Black's win was a pure fluke – proof that chess is a game of chance.
Ilford's time runs out in national semi
National Club Open Championship Semi-Final, 2004
ILFORD v WOOD GREEN
1 Richard Palliser (B) 215 ½-½ Chris Ward 243
2 Jonathan Rogers 219 1-0 Danny Gormally 235
3 David Sands 202 0-1 Richard Pert 221
4 John Hodgson 198 ½-½ Neil McDonald 211
5 Jon Manley 199 0-1 James Poulton 209
6 Mark Rich 182 0-1 Desmond Tan 216
2-4
FEW teams can field a grandmaster on board 4. Wood Green can. At the start of play, however, Neil McDonald was nowhere to be seen. He and three of his clubmates were stranded in a traffic jam in central London. After 45 minutes only the games on boards one and five had even got underway.
Over the years Wood Green have built a healthy string of victories against Ilford, runners-up in last years competition. Their team sheet showed that they meant business this time, but the question was, would all of their players show up?
What on paper seemed another stiff task for the hosts had suddenly become a more equal contest. Four of Wood Greens players would have to concede 50 minutes on the clock.
They responded to the challenge. Desmond Tan launched a speculative attack driven more by adrenalin than calculation, but an off-form Mark Rich responded passively and allowed his kings shelter to be shredded by his opponents rampant h-pawn.
David Sands had to defend an inferior position, one he would have undoubtedly held against a weaker opponent, and Jon Manley blundered away two pawns in the opening. He won a piece back but only at the cost of another two pawns. The draw was never quite there.
A composed Jonathan Rogers saw off some risky gambit play from Gormally, while Richard Palliser's fine preparation neutralised Grandmaster Chris Ward.
John Hodgson, nursing bitter memories of a game he lost to the same opponent only weeks before, forced a creditable draw, but even a win would not have been enough to save Ilford. Time just wasn't on their side.
Nelson wins battle of Hastings in Ilford's great escape
National Club Championship 2003/4, Round One, 30/11/03
Hastings and St Leonards v Ilford
1 D.W.L. Howell (215) ½-½ R.J.D. Palliser (W) (215)
2 T.E. Rendle (208) ½-½ D.A. Sands (202)
3 B. Cafferty (195) ½-½ D.J. Coleman (195)
4 R.A. Barton (176) ½-½ J.H. Hodgson (198)
5 R.J. Almond (174) ½-½ J.P. Manley (199)
6 N.J. McCarthy (160) 0-1 J. Nelson (173)
____
2½-3½
Richard Palliser had specially prepared the Trompowsky Attack for 12-year-old prodigy David Howell. He sacrificed a pawn for an initiative but David defended well to reach a technically drawn rook endgame. Dave Coleman has an impressive record against Bernard Caffery but an early exchange of queens soon led to a truce. After much manoeuvring in a closed position Thomas Rendle made a half-hearted attack but could not ruffle super-solid David Sands.
As expected, the lower boards would decide. Jaco Nelson dropped the exchange in a Modern Benoni Defence and was clearly losing, but a win on board 4 or 5 would see Ilford through to the next round on board count. Disaster struck when Jon Manley, apparently cruising to victory with an extra pawn, allowed a threefold repetition of the position which his alert opponent spotted with barely two minutes remaining on his clock. John Hodgson had also won a pawn but could make no progress in the endgame. Reassured by McCarthys winning advantage on board 6, the Hastings captain ordered Alan Barton to offer a draw, which John readily accepted.
Resigning themselves to defeat, the Ilford players glumly trudged upstairs to analyse John's game, leaving Jaco to play out a few more hopeless moves in a Q+R v Q+B ending. All seemed lost.
Suddenly Cafferty announced that their man had just dropped his rook. The incredulous Ilford team rushed downstairs to see what had happened. Sure enough, the hapless McCarthy had allowed a fatal queen check, and Jaco cleaned up. No one can remember Ilford making such a dramatic recovery in this competition.
Had all six games been drawn, the rules of the competition demand an immediate rapidplay decider, each side having 30 minutes for all moves, with the same players and same opponents but with colours reversed. Given that Richard and Dave Coleman had left before the end of play to make the long journey home, Ilford would have had to default two games in the decider. The rules therefore would seem to disadvantage the travelling side.
photo: Ian Hunnable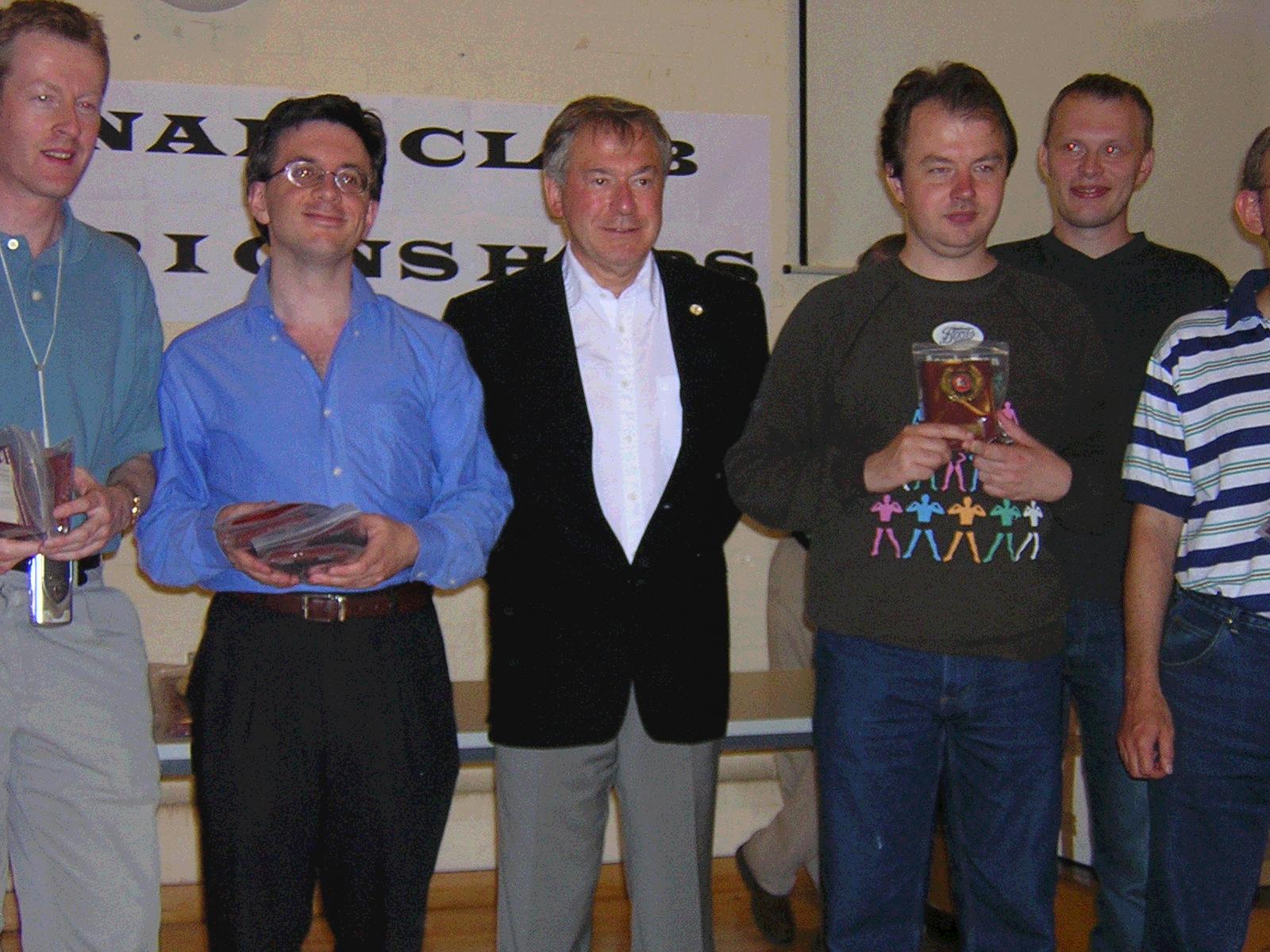 left to right: Manley, Rogers, Tony Banks, Sands, White, Hodgson
photo: Jon Manley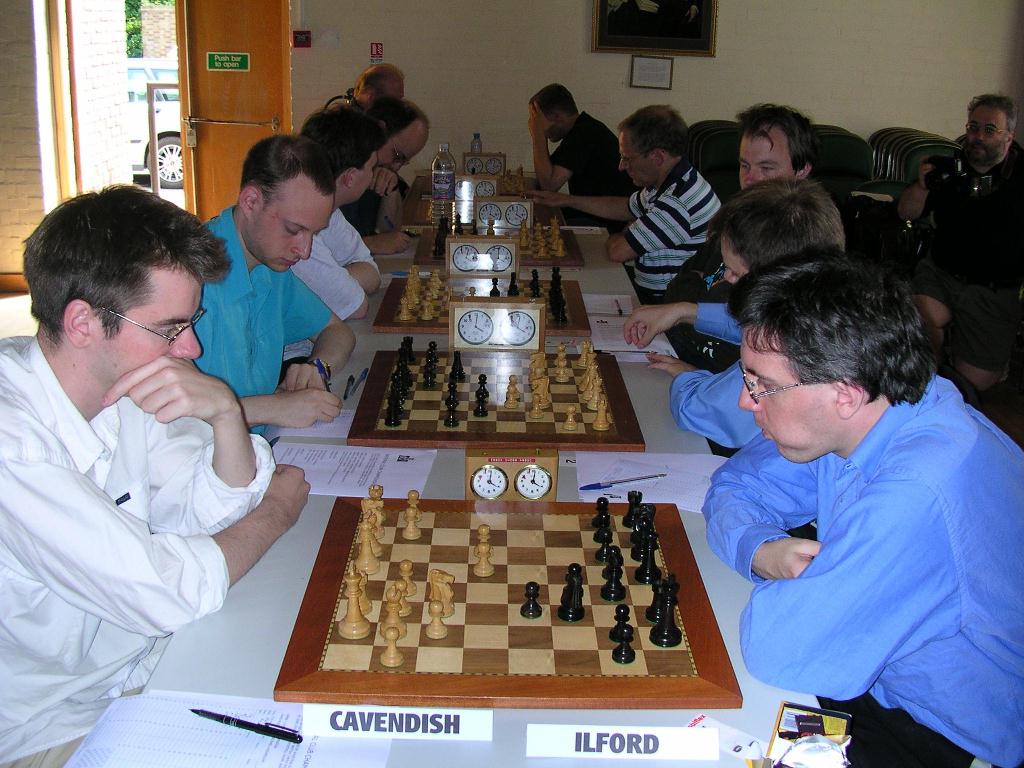 GM Parker destroys the dodgy Dutch
Ilford outgunned in final
National Club Open Championship, Final
Wanstead, 29 June 2003
Cavendish Ilford
1. Jonathan Parker 1-0 Jonathan Rogers (B)
2. Brian Kelly ½-½ Richard Palliser
3. Mark Ferguson 1-0 David Sands
4. Peter Taylor ½-½ John Hodgson
5. Gary Kenworthy 0-1 Jon Manley
6. M. Macdonald-Ross ½-½ Russell White
______
3½-2½
In the first game to finish, Grandmaster Jonathan Parker overcame Jonathan Rogers Dutch Defence with scientific precision. The meticulously prepared Richard Palliser, who had travelled all the way from Yorkshire, pressed Irish master Brian Kelly very hard before settling for a draw. In a scrappy game which turned on a lucky tactic the Ilford captain made it all square with three games left. David Sands suffered his first loss of the season, slowly ground down by an opponent who was always in control.
Only wins on boards 4 and 5 could save Ilford. John Hodgson unsettled Taylor by sacrificing a piece for two pawns in a Classical Caro-Kann but his attack gradually petered out into an ending which he was content to draw. With the match effectively over, the wildly fluctuating battle on board 6 came to an unexpectedly peaceful conclusion: 3½-1½ to Cavendish.
This was a disappointing result for us but we were consoled by the runners-up prize of £250. Next season, strengthened by Dave Coleman and Mongolian master Odondoo Ganbold, we shall make another bid for the title that has eluded us for so long.
Grandmaster Nigel Short beats Essex 29-1
Nigel (or 'Nosher' as he's generally known) gave a simultaneous display in Corringham on 20 January. Mark Hogarth and Barry Sheppard made well-earned draws. Ilford's Aidan Corish survived until midnight but Nigel was just too quick for him in the blitz finish (see Games)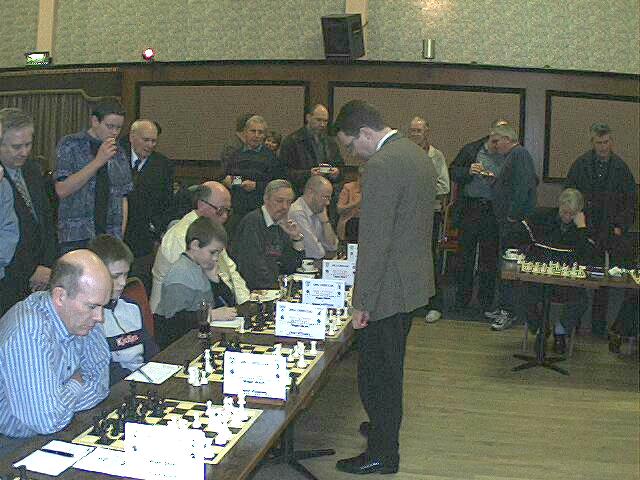 Nigel Short on his way to scoring 29-1. Mark Hogarth and Barry Sheppard held the GM to a draw
*